This year's 11th annual SoundSet festival was highly anticipated by many fans of hip-hop, rap, and R & B. Rhymesayers Entertainment always puts on the best festival they can, despite dealing with day-of cancelations and high Minnesota temperatures.
Over 30,000 people attended the festival over Memorial Day Weekend, and it's my personal estimate that about a tenth of those people ended up passing out, dehydrated, or with heat exhaustion. Temperatures neared the 100 degree mark all day and despite the abundance of water bottle filling stations, the lines were so long that sometimes it wasn't enough. EMS and security did a wonderful job of helping those who sought out medical attention, and most everyone was able to recover with rehydration and rest.
With three different performance stages, we thought they'd be in such close proximity that sound would bleed over from overlapping performances. Fortunately, the stages that were right next to each other had staggered performances, and the one that had overlapping acts was further away than we thought. In fact, it was far enough to the point that we were rarely able to get to it, because we frequently got distracted by the shows happening close to our spot and by some wonderful artists that we got to interview after their sets (and if you haven't read those interviews, click here!) . 
Brockhampton was my top priority artist for the day, and I was pretty crushed when they cancelled mere hours before they were set to perform. This isn't the first time someone has cancelled their SoundSet performance, either (Lil Uzi Vert was set to play last year but ended up canceling at the last minute). Of course, we understand that Brockhampton is working through and dealing with a lot right now, so we are supporting them and we look forward to their next releases and their upcoming tours.
Here are some sum-up, rapid-fire reviews of the artists we had the pleasure of seeing!
Logic: "Amazing!! Logic's message of 'Peace, Love, and Positivity' really shone through in his set and we loved seeing him!"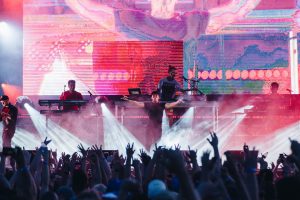 Migos: "Migos only performed three songs and they got cut off in the middle of their last one (this was because they showed up late to their own set), but they had the most pyrotechnics of anyone we saw so I thought it was good"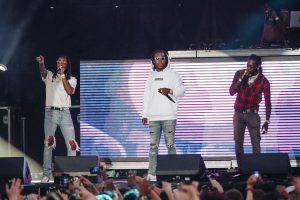 Atmosphere: "So cool to see one of our local MN artists performing for a large audience like this! We're so proud of them!"
Erykah Badu: "Erykah had an awesome set that was so true to her style as an artist. Towards the end it became clear to us that she was stalling for Tyler, the Creator (who hadn't arrived tot he venue yet), so we felt bad when people started chanting to get her off the stage so that Tyler's set could start.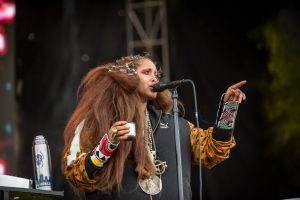 Tyler, The Creator: "WOW. Tyler was SO good. He brought so much energy to his set! He was jumping around and he looked like he was having as much fun as the audience. Not sure about that new hair color though! (His hair is dyed blonde with brown leopard spots in it)"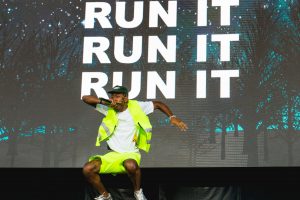 Russ: "Not a ton of people know who Russ is, but I feel like after the festival a lot more people are going to look into his music! He has a really nice sound that comes across well and can work in almost any situation!"
Wu-Tang Clan: "So cool to see Wu-Tang at their FIRST performance in decades, especially for fans who have been following them since the beginning. It's also really cool to see such a legacy in person, there is no way any of the artists we saw today would be as big as they are if not for Wu-Tang Clan."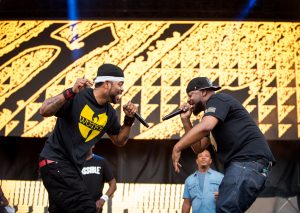 A Boogie Wit Da Hoodie: "I don't really follow Boogie, but after seeing his performance I'm definitely more likely to listen to his music! He was really high energy and we gotta give him props for coming out in a literal hoodie in that heat!"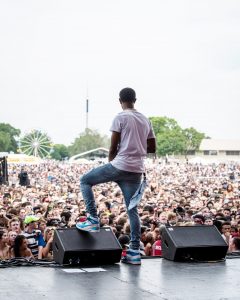 Prof: "Prof was so much fun! He brought enormous pool floats and had the fans crowd-surf him and a couple others through the mass of people and it was so cool to watch! Even if you were at the festival alone, Prof really made you feel like you were part of something bigger."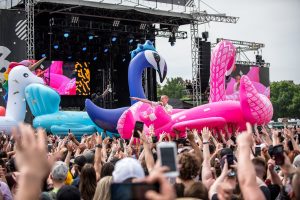 Jaden Smith: "Jaden's been criticized for being so young and trying to appeal to a young audience, but I really connected with him! His music is a lot more fun than I thought it would be and I really liked how much fun he was having (even if he expressed that fun with some ad-libbed expletives."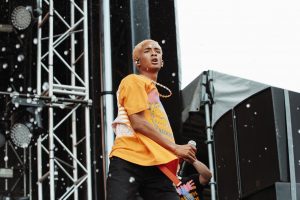 We'd like to thank Rhymesayers Entertainment again for putting on an awesome festival and for having us out to cover it!