Written by Adrian Perez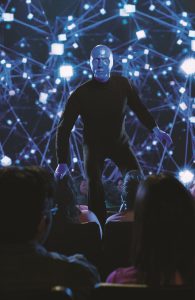 Seeing The Blue Man Group perform live is an experience beyond any other. Their quirky and comedic nature, intertwined with the complexity of their music, make them a show that is far from forgetful. On October 5th, I got the chance to witness firsthand the magic done in the Briar Street Theater that has kept The Blue Man Group active in Chicago for 20 years, a number that has earned it the title of "Longest Running Production in Town." This exciting experience was brought about thanks to a collaboration between WMXM 88.9FM and The Blue Man Group, as a part of their College Press Event, a celebration of The Blue Man Group's 20th anniversary in Chicago. Students from colleges within the Chicagoland area were invited to not only experience the show, but to also partake in a Q&A led by "Left Blue Man," Eric Gebow, and Musical Director, Jeff Quay.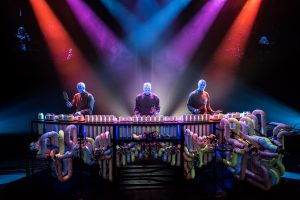 It's rare that the words, "free tickets to…" come about in everyday conversation, but even more rare when the tickets are to see a production that has been moving strong for 20 years. It's such a rarity, that everyone at my WMXM 88.9FM staff meeting took the news with a bit of skepticism. General Manager of WMXM, Fatima Hassan '18, was initially contacted by Alex Jakubiak of Carol Fox and Associates, who handles publicity for The Blue Man Group, with news that a member of the WMXM 88.9FM staff would be able to go see the group perform live. "It's totally legit," smiled Fatima, as we all looked toward her with excitement. Even more excited was Michael Rodriguez '20, as I relayed the news that had I received the tickets, and that he would be my plus one. He perfectly encapsulated our enthusiasm with his outpouring and jubilant response, "Word."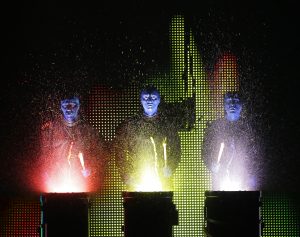 Full of glee, we made it to the Briar Street Theater, where we were met by Alex Jakubiak, who handed us our tickets, and led us to the row specified for participants of their College Press Event. Row Q, seat 6-7 were where we would be seated for the next hour, encapsulated by a show that would leave us in absolute awe.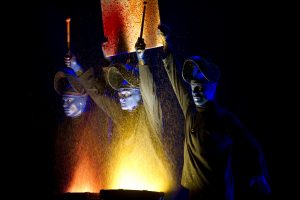 Fans of the original Blue Man Group formula will be pleased to hear that much of what was invigorating
about shows from their past is still present today. The group begins their show with their iconic skit
involving the drum barrel and a heaping amount of brightly colored paint. To my surprise, the relationship between the three characters is comedic from the start. What captured me most is that the three men who play the Blue Men are skilled at create comedic moments through facial gestures, rhythmic timing, and intimately strange audience interactions, all while completely silent.
When asked about their ability to construe comedy with the musical approach of their show, Left Blue
Man, Eric Gebow, stated, "That was always the intent of the original creators of Blue Man. It's very much a show that's entirely itself. We don't exactly have any hidden agenda, we're just out to make audiences laugh and leave the theater feeling strange, but content with their night." There are a number of modern touch ups to the show though, such as the use of large iPhones, rave beach
balls, and new musical numbers. According to Musical Director, Jeff Quay, "The show is always changing! [The Blue Man Group] was originally very focused on the strange interactions between the
three characters. While there isn't much that has changed these days, it still has a feeling of its own."
When further asked how the original creators have viewed these changes, Quay stated, "The original
creators of the Blue Men Group don't have much of a say in what comes in and out of the show these days because they're mature enough to know that they aren't a part of the process anymore. Although, it's still very 'Blue Man'."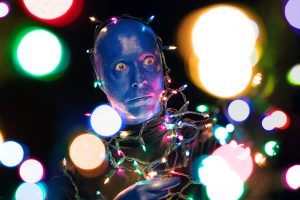 But what makes Blue Man, Blue Man? Confused, we asked about the formula of the show, and what
made the music entirely its own. "It's very tribal," stated Quay. "There's this heavy emphasis on
percussion, but during the show we also have a full band performing with the Blue Men in a box off stage. It takes a while to really teach new guys what Blue Man sounds like, so what we used to do is just have them play and slap them on the wrist whenever they played something that didn't sound Blue Man." The audience of college students paused at his answer, to which Eric Gebow stepped in and laughed, "It's definitely a thing of it's own. You just hear it and immediately know it's Blue Man."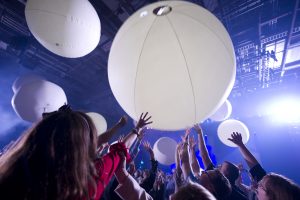 Before the night came to a close, Michael and I were determined to know how the Blue Men came to
become the great performers that they are today. When asked what his musical/theatrical background was, Eric Gebow stated, "I didn't really have any formal training or lessons before starting Blue Man. I was a drummer in a band called 'Switchblade Symphony,' but no formal lessons. I auditioned for Blue Man as a drummer, and here I am 20 years later." Interested, I furthered the question by asking how he developed his craft as an actor on stage. "The show is very concrete," Gebow stated. "The characters have been very carefully fleshed out. They have their own background, character description, actions, etc., everything that I had to study once I got the part. Everything is basically laid out from the start, so I didn't really have to worry as much about acting, but rather how I followed this formula. That being said, when I do choose to do something new, it works. I understand what constitutes the Blue Man formula, which is why it's difficult for new guys to try new things."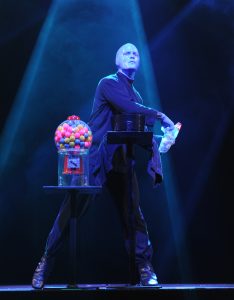 With that, Alex Jakubiak came by to announce that the interview was over. The students and I gave Eric Gebow and Jeff Quay a round of applause, and we thanked them for their time. Michael and I took a
photo with Eric, and revered in the in the wondrous moment we had just been a part of. The night began coming to a close, and the Briar Street Theater was silent, minus the shuffling of brooms on stage. We
exited the doors and made our way back to Lake Forest College, feeling entirely Blue Man.
Photography by Lindsey Best, Paul Kolnik, Denise Truscello, courtesy of Carol Fox and Associates